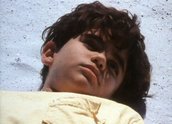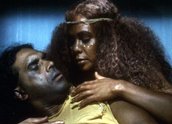 From Sand to Celluloid – Black Man Down (1996)
Synopsis
An experimental short drama about Aboriginal deaths in custody.
Curator's notes
Black Man Down is an experimental film that, according to the prologue presented by writer Sam Watson, is about the possibility of healing for Indigenous peoples by returning to spiritual identity and concepts. Watson tells us of the intention of the Bora Ring in the film, and how it represents a doorway into healing.
Black Man Down follows the main character Waxy (David Hudson) who is beaten at a protest rally, and into a possible scenario of committing suicide while in custody. The high rate of Indigenous people dying in custody led to the Royal Commission into Aboriginal Deaths in Custody in 1985. The findings that were published offered guidelines as to correct police protocol when dealing with an Indigenous prisoner. Since the publication of the findings of the Royal Commission, items like belts (which the character Waxy considers as the means to commit suicide) and shoe laces are now removed to avoid these items being used in suicide attempts. Deaths in custody is also the subject of No Way to Forget (1996), a film by Richard J Frankland. Frankland's other film Who Killed Malcolm Smith (1992) tells of an Indigenous youth who killed himself by stabbing a paint brush through his eye.
Watson's film Black Man Down attempts to offer a spiritual alternative to the futility of fighting the system, the message seems to be that in order to overcome the hostility of injustice, return to your spiritual roots so that healing can take place. The film has a prologue written and narrated by Sam Watson on what he as the writer intended the film to mean;
'In this film there is one small scene that features a male warrior using a Bull Roarer, he is using it to call the central character 'Waxy' into a mock initiation area.
This scene is very important to the film, it is really the turning point of the entire story as 'Waxy' must choose between life and death.
I wrote the film to suggest that young Aboriginal people can survive any challenge even death, if they can rediscover their cultural roots.
Our young warriors of today can find meaning and direction, if they can only reconnect with their past.
I did not mean any disrespect and I did not intend to show the ceremonies or special business of any one tribe or any one clan.
This scene is meant to show the truth and the reality of our pain and our tragedy.
There is a city skyline in the background and that is meant to represent death and destruction, whereas the Bora Ring represents the doorway to life.
The Bora Ring is the door and the Bull Roarer is the key to that door.'
Sam Watson (Writer/Co-producer)