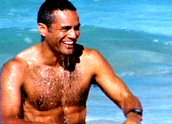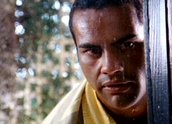 Sa Black Thing (2005)
Synopsis
A romantic comedy about a young corporate businessman whose computer is taken by a woman he offends on the beach.
Curator's notes
This romantic comedy from writer–director Rima Tamou, explores the role cultural values plays in the romance between two Indigenous characters. Though a light-hearted film, the undertones of Sa Black Thing are embedded in the socio-economic status of Indigenous people within the Australian community, and how this socio-economic position plays on notions of identity and blackness. The film then becomes more about how wealth and materialism is perceived as being un-Aboriginal as evidenced when the lead female character Crystal (Kylie Farmer) accuses Clinton (Michael Tuahine) of being a coconut (brown on the outside, white on the inside).
Tamou has also directed Best Foot Forward, Les Ridgeway, Richard Bell, Saturday Night, Sunday Morning, and Thancoupie. This program has also screened on NITV, National Indigenous Television.
Other films in the AFC Indigenous Branch drama initiative Dramatically Black are The Djarn Djarns, Plains Empty, Green Bush (all 2005) and Crocodile Dreaming (2006).