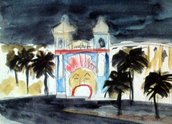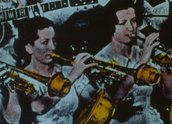 Pleasure Domes (1987)
Synopsis
A woman (voiced by Julie Forsyth) contemplates the view from her St Kilda balcony. In her eyes, it becomes a 'riviera anywhere', infused with glamorous images of times past.
Curator's notes
Pleasure Domes is a reflection on the inevitability of attaching associations to perceptions of landscape. Director Maggie Fooke utilises animation's strengths in abstraction and metaphor with her watercolour and pencil images that cross-fade and blend with hand-coloured historical photographs. In combination with the narrator's musings, they create a fluid, shifting evocation of a St Kilda infused with thoughts of other times and places.
The visuals merge the narrator's 'real' space with imagined and remembered spaces. Chris Knowles's textured soundscape completes this environment. Like Fooke's images, it is rhythmic but fluid, blending and cross-fading environmental sounds with music. The film strikes a contemplative but also slightly melancholic note. Fooke touches on themes of colonisation and migration, considering settlers' desires to recreate the landscape in the image of other places and comparing this with the different meanings given to the same environment by its Koori inhabitants (see clip two).
Similar themes appear in some of Fooke's other works, both within and outside film. She trained as a horticulturalist and landscape architect and has a background working in public art and design, including the creation of a number of public works in St Kilda. She also has a history of community activism in the suburb. In 1994 Fooke completed a feature-length cinema vérité documentary, Mandalay, about gentrification and redevelopment in St Kilda and the fight to save 'Mandalay', the run-down block of flats where she lived, from demolition.
Fooke made Pleasure Domes while studying animation at Melbourne's Swinburne Film and Television School. In 1988, it became the first Australian animation to screen in competition at the Cannes Film Festival. It also screened at numerous other international festivals and was awarded Best Animation at the 1988 Sydney Film Festival and 1989 ATOM Awards.