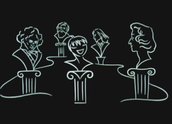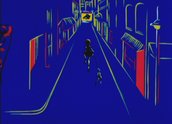 Pianoforte (1984)
Synopsis
A young woman who yearns to become a concert pianist is rescued from a sleazy cabaret by a mysterious cat burglar with whom she falls in love.
Curator's notes
Described by Antoinette Starkiewicz as 'a fairytale about love', Pianoforte is a 2D hand-drawn cel animation. Like her earlier work Pussy Pumps Up (1979), Pianoforte is a generally lighthearted film without dialogue, with music (by Sharon Calcraft) and dance being strong components of the film.
The animation is based on a black line and flat areas of colour. This reflects Starkiewicz's earlier work and recalls the abstract paintings of Piet Mondrian (1872–1944) and the Pop art of Roy Lichtenstein (1923–1997). The French animator Émile Cohl (1857–1938) and the original animations of Walt Disney's Minnie Mouse were further sources of inspiration for Starkiewicz's pre-digital works.
Antoinette Starkiewicz originally trained as a painter before gaining a Diploma of Animation in London and, more recently, a Master of Arts in Digital Media. She is also a practising portrait painter, designer and fashion illustrator.
Pianoforte utilises a team of assistant animators including Ian Barbour, Don Ezard, Don Mackinnon, Warwick Gilbert and Astrid Nordheim. It was shown in national cinemas as a supporting short and consequently enjoyed considerable success at the box office. Pianoforte also featured in Perspecta '85 at the Art Gallery of NSW.