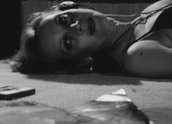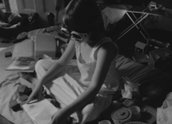 Passionless Moments (1983)
Synopsis
Passionless Moments is a lighthearted series of vignettes sharing people's fleeting thoughts. Jane Campion combines a serious documentary style with a whimsical look at the small moments people experience everyday.
Curator's notes
This short film reveals a beautiful oddness in mundane situations. In a 1989 Positif interview with Michael Ciment, Jane Campion explained that she and co-writer Gerard Lee 'wanted to show sweet ordinary people that you rarely see on the screen and who have more charm than better known actors'. The film has a witty, detached ironic tone and a surreal focus on the ordinary detail of lives in suburbia. It plays with narrative point of view, suspending the audience between dispassionate observation and an intimate awareness of the characters' subjective states.
Campion playfully borrows from the documentary genre. The full opening title reads 'Passionless Moments recorded in Sydney, Australia, Sunday October 2nd'. An authoritative sounding BBC ethnographer-style narrator uses phrases like 'the filmmakers discovered …' to suggest that the film is observational. This notion is beautifully absurd, as the narrator coolly reports on the characters' interior monologues and unspoken, incidental thoughts. Nor is the camera simply observational, doing things like hiding under beds and illustrating what the characters see and think.
Passionless Moments won a 1984 AFI Award for Best Experimental Film. It was part of the group of films that marked Campion's breakthrough at the Cannes Film Festival in 1986, screening in the Un Certain Regard section alongside A Girl's Own Story (1983) and her ABC telemovie Two Friends (1986). In the same year An Exercise in Discipline: Peel (1982) won the Palme d'Or for Best Short Film.
Campion's feature films include Sweetie (1989), The Piano (1993), The Portrait of a Lady (1996), Holy Smoke! (1999), In the Cut (2003) and Bright Star (2009).