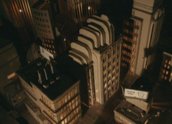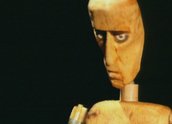 Paper City Architects (2006)
Synopsis
Woodman (voiced by Paul Fletcher) is sent a mysterious bill by the Department of Debt. When he calls them to report the error, he gets tangled in a web of bureaucracy.
Curator's notes
The element of this stop-motion animated short that really shines is its production design and construction. Director and designer Daniel Agdag's beautiful, intricate cardboard skyscrapers are dimly lit from the outside but glow from within, creating a noirish play of light and shadow. Shifting camera angles on this Manhattan-esque city create the feeling of a great metropolis stretching beyond what's visible. Ground-level views allow the buildings to tower over the camera, alternating with aerial perspectives that make the protagonist tiny within the sprawling cityscape. In this setting, the story is one of a familiar kind of frustration as Woodman gets caught up in bureaucracy. Agdag takes a dig at over-bureaucratic systems and a consumption-driven society through a sparse, abrupt narrative.
The beauty of the constructed city seems in contrast with the frustration of the story. Yet the protagonist's visual isolation within an impenetrable, if beautiful, metropolis also suits the theme. Paper City Architects creates a parallel between a society's architectural and bureaucratic structures. The 'architects' of the title may not be those who built the physical structures of the city but the bureaucrats controlling the powerless Woodman's life.
Paper City Architects is a student film, created while Agdag was studying at the VCA School of Film and Television. It has screened at a range of local and international festivals, winning the 2007 Dendy Award for Most Innovative Short and was nominated for an AFI Award for Best Short Animation in 2008. After the film screened at Flickerfest, the festival picked it up for distribution, later securing a television sale to SBS.