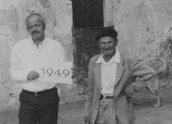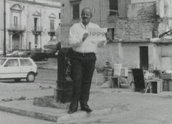 Palermo: 'History' Standing Still (2004)
Synopsis
An experimental documentary that explores the traces of Palermo's history visible in its architecture and street life, and the way history can be constructed on screen.
Curator's notes
Palermo – 'History' Standing Still comments simultaneously on history, the construction of history and the way cinema creates meaning. Director Janet Merewether shot all the footage on Super 8 in Palermo in 1999 and uses incidental detail in the images of architecture and street life to obliquely describe a century of the city's history. Starting with 'Palermo 1' (1909), its eleven sections progress a decade at a time through to 'Palermo 10' (1999). The final section, 'Palermo 11', is undated.
The city's buildings provide clues about its history. For instance, in 'Palermo 4' (1939), Merewether introduces shots of fascist architecture. In 'Palermo 5' (1949), she shows us buildings bearing the destructive traces of the Second World War.
We see the same people doing the same things from one 'decade' to the next, to comic effect. For instance, an old woman hangs out washing for the entire century, making Palermo seem a place where, despite monumental events, some things never change. Viewers familiar with Sicily's 20th century history might read a comment on politics, government inaction and mafia diversion of public funds. Shots of half-ruined or half-constructed buildings repeated over decades imply public works started and never completed. In 1999 we see decaying posters advertising candidates in the previous year's provincial elections – but no obvious signs of these having any impact.
However, it is up to the audience to bring such meanings to the film. We do not see any historical events on screen, nor is there any overt political comment. It shares common ground with Merewether's short Cheap Blonde (1998), which also works with a restricted set of elements to encourage the viewer in the creation of meaning. Both films tap into a tradition of experimental filmmaking by playing with cinematic conventions and drawing attention to film's constructed nature. For an earlier example of experimental documentary exploring the construction of meaning and history, see Helen Grace's Serious Undertakings (1983).
Palermo draws attention to one of cinema's fundamental features, the manipulation of time, by being illogical, defying conventions of linear narrative and continuity editing. By making Palermo's streetscape represent different moments in history, Merewether also highlights cinema's ability to be selective, to reveal only those parts of a location or story that it wants its audience to see. The soundtrack further underlines the film's construction. In place of naturalistic sound, there is a repetitive, mechanical whirr, suggestive of the sound of a Super 8 camera, a gramophone recording, or projector in action.
Merewether's other works include a range of shorts and documentaries, including Cheap Blonde (1998), Jabe Babe: A Heightened Life (2005) and the autobiographical Maverick Mother (2007). She has also worked as a titles designer on films including The Boys (1998) and Walking on Water (2002).
Palermo – 'History' Standing Still won a Dendy Award at the 2004 Sydney Film Festival and was nominated for AFI, ATOM and FCCA Awards in 2004. It screened at the Melbourne, Sydney and New York Film Festivals.