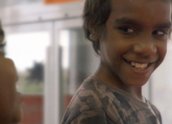 One Shoe Short (2007)
Synopsis
In a town camp in Alice Springs, it's school time and Rodney (Rodney Malbunka) can't find shoes to wear. His school won't allow him in class barefoot so his mate Jesse (Jesse McCormack) tries to help him out by reorganising his Aunty's (Audrey McCormack) shopping list.
Curator's notes
One Shoe Short is a heartwarming and endearing tale that also serves to highlight the conditions which many Aboriginal people in remote communities endure but are invisible to the majority of the Australian population. For many people living in such conditions the need to survive and eat far outweigh the need for things such as shoes. Made with support and collaboration from the community, the audience is, however, encouraged to see the humour in Rodney's disregard for shoes which is in stark contrast to the school's need for shoes in the classroom.
Despite Rodney's desire to go to school, the overly prescriptive rules of the school deny him this chance. There are many places in the world where going barefoot is normal, even expected, especially for children. It is only when you impose an urban, Westernised view that the importance of wearing shoes is elevated – in this case, even above education. Ironically there are international case studies that show that removing footwear at school actually benefits the children and results in a calmer environment and better behaviour.
Above all this is a story that celebrates the friendship and unbreakable bond between these two boys. This friendship is demonstrated when Jesse does everything he can to look out for Rodney, and even risks admonition from their aunty. Both boys are strengthened by their bond and are pleased with the results of their adventures, despite the unlikely choice of replacement shoes; they both now have shoes and they will serve their purpose as long as needed – which is not very long!
One Shoe Short screened widely at film festivals, winning Best Achievement in Indigenous Filmmaking at the 2009 St Kilda Film Festival and Best Film made by Adults for Children at the 2008 Auburn International Film Festival.