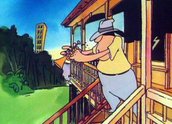 One Man's Instrument (1989)
Synopsis
On a lush banana plantation, a farmer views his crop and plays on his trumpet, coaxing the bananas to grow. Suddenly, on the horizon, a high-rise building appears with a thud and multiplies into more buildings, surrounding the farmer on all sides. All hell breaks loose.
Curator's notes
A 'Queenslander' is a wooden home raised on stilts and surrounded by verandahs. It was a typical dwelling in Queensland from 1840 to the 1960s and a fitting symbol of a more idyllic Queensland – and of home – before the high-rise towers invaded the landscape.
Animator Max Bannah shows us that the farmer, his farm and their close connection also belong to days gone by. The giant steps of 'progress' continue to trample over nature at an alarming rate. Nature takes time and care to nurture and as man is closely allied with nature, progress and development can potentially destroy man.
The solid-jawed farmer and his trumpet may be seen as an Australian version of Orpheus, who could charm wild beasts and coax the trees to dance with his lyre. Orpheus was one of the mythological Greek heroes to visit the underworld and return, and we hope the farmer will too.
One Man's Instrument screened at the Spike and Mike Sick and Twisted Festival of Animation in the US in 1990 and was broadcast on SBS Television as part of Eat Carpet.