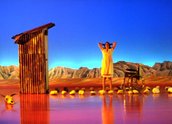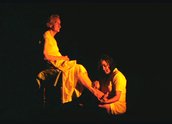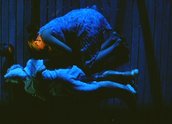 Night Cries: A Rural Tragedy (1989)
Synopsis
A short experimental film shot totally in a studio, it is about the relationship between an Aboriginal daughter and her white mother. The daughter, now the sole carer of her dying mother, dreams of far away places.
Curator's notes
A short film written and directed by Tracey Moffatt, Night Cries is promoted as a possible sequel to Chauvel's feature film Jedda. What would have happened had Jedda survived, and became the primary carer of her white mother? Moffatt, one of Australia's most famous visual artists whose work is internationally acclaimed, continues her use of constructed environments, with no outdoor scenes filmed in this work. Shot entirely indoors, the design work of Steven Curtis in Night Cries can also be seen in Moffatt's feature film BeDevil. The beautiful use of rich colours, reflections and sounds open up the indoor environment of the set, and suggests the grand expanse of physical landscapes.
Moffatt's use of famous Aboriginal singer Jimmy Little, who sings 'Royal Telephone' in Night Cries, evokes the presence of Christianity, and its role in the assimilation of Aboriginal peoples. The haunting textures of the painted landscape can then perhaps be reflective of a gradual change in how Aboriginal people relate to the land as a consequence of assimilation. The haunted look in the eyes of the Aboriginal daughter (Marcia Langton), is loaded with a sense of what could have been. The final scene of Night Cries is reminiscent of a scene from Jedda, when the newborn infant is laid on the table next to the white mistress of the house, and both begin to cry. This scene in Night Cries revisits the pain and anguish of Jedda, as the now grown Aboriginal daughter lies in a foetal position next to her white mother, and once again cries. Assimilation, then, can be understood as a pain experienced by both the Aboriginal daughter, as well as the white mother.
Tracey Moffatt is an artist who continues to challenge the social construction of Aboriginality and how it is nationally and internationally viewed.