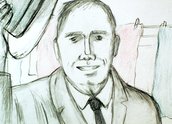 Ned Wethered (1983)
Synopsis
A young girl watches her father developing a photograph of Ned Wethered and recalls the rituals associated with his visits. Ned enters through the back gate, doffs his hat to her mother and plays with the family cat during morning tea with the family. He brings precious artefacts to show them – a painted tile he has made, poetry he's written and a glass prism which he uses to explain to the young girl how colour is made. When he is forced to move to another suburb, the family drives over to visit him.
Curator's notes
Lee Whitmore's films are largely autobiographical, focusing on her childhood and family. Whitmore's first animated film, which she narrates herself, is a memoir of Ned Wethered, a frequent visitor to the Whitmore household when she was growing up. As in her later film Ada (2001), Ned Wethered has a mood of quiet serenity and poignancy, recalling the simplicity and slower pace of life in the 1950s.
For Ned Wethered, Whitmore uses the traditional 2D animation technique of drawing with pencil on paper over a lightbox and a limited colour scheme. A self-taught animator, she was inspired to make the film after seeing Canadian animator Caroline Leaf's The Street (1976). Ned Wethered was not originally intended to be fully animated and the film ends with live-action footage of Whitmore's studio and of the animator holding a photo of Ned and wondering aloud why she remembers him.
Ned Wethered won Best Animation at the 1984 Sydney Film Festival, AFI and ATOM Awards.