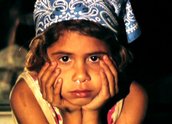 Bit of Black Business – Nana (2007)
Synopsis
A Little Girl (Kiara Gibson) loves her Nana (Mitjili Napanangka Gibson) and follows her as she hunts, sells art and patrols her Alice Springs community for drug runners. Nana has everything and everyone under control.
Curator's notes
Nana is loved.
Nana cooks for her family and also the old people in her community.
Nana dances.
Nana is also loved by other people.
Nana is a good hunter.
Nana is a famous artist too.
Nana grooms.
Nana works for the Night Patrol and hassles the grog runners.
Nana is a humorous portrait of an all-rounder (Mitjili Napanangka Gibson) told from the perspective of a Little Girl (Kiara Gibson), her granddaughter, and accompanied by contemplative music from composer David Page. It's also an intimate insider perspective of family life in a small community.
Other characters are played by Ted Egan Jangala, an old man who gratefully receives food from Nana, and Noreen Robertson Nampijinpa, whose character helps Nana out on the Night Patrol.
Nana was produced by Kath Shelper as part of the Bit of Black Business initiative by the Indigenous unit of the AFC, and premiered at the 2007 Message Sticks Indigenous Film Festival in Sydney.