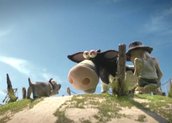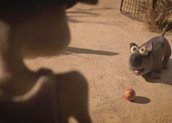 Synopsis
Mac, a hardened outback farmer, his mellow cow Matilda and his playful dog Mutt are in conflict, yet are dependent on each other for their survival.
Curator's notes
Mac, the square-jawed farmer, looks like he's stepped straight from an Albert Tucker outback painting. Glen Hunwick, a very experienced director-animator, uses the advantages of his medium to bring Mac's character to life: tough and implacable, he trudges up the parched earth of his desolate farm to milk his cow Matilda. For this Mac receives just a few coins and his life is tough and full of drudgery. Goggle-eyed Mutt's insistence on play, and his adoption of the unwitting cow as a playmate, proves a near disaster for them all.
The drama unfolds below the immense, changing sky of the Australian outback. The three very different characters learn that their survival depends on close collaboration. The exceptional quality of this film also points to a close collaboration between its creator, Glen Hunwick, and his team of model makers and digital experts. Mutt's world is made vivid and real by a harmonious mix of the hands-on technique of stop-motion plasticine animation, time-lapse footage and the latest in digital technology.
Mutt won the Yoram Gross Animation Dendy Award at the Sydney Film Festival and the Award for Creative Excellence in an Australian Short Film at the Melbourne International Film Festival in 2008. Mutt was nominated for Best Short Animation at the 2008 AFI Awards.