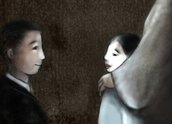 Mother Tongue (2002)
Synopsis
A young Korean girl's father goes to Australia. The girl and her mother send him audio tapes regularly before they join him. In their new home country, the girl is brought up to speak only English and so becomes distanced from her parents. Voice-over narration is by Anita Beckman.
Curator's notes
Set in Korea between 1976 and 1978, this is a haunting, yet beautifully understated, short film. It conveys the young girl Hong Gyong's sense of loss arising first from the physical absence of her father, then from the loss of her mother tongue, which consequently affects her ability to maintain a close relationship with her parents. The story is conveyed through a series of brief vignettes: of mother and daughter recording daily events, of the girl singing a song to her absent father and then learning English in preparation for their move to Australia.
The scenes are composed of simple line drawings and muted tones of greys and browns which appear briefly and then dissolve. Christopher Danta's soft background music adds to the film's sense of melancholy. The film's painterly style deliberately belies its digital construction. Susan Kim Danta used digital software that emulated an artist's studio, allowing the subtleties of line work and the colours and textures of oils or pastels.
Like the Canadian animator Caroline Leaf and the Australian animator Lee Whitmore – both influential in Kim's development – Kim uses an under camera or straight-ahead technique in which images are drawn and then erased. The overall effect conveys the haziness and brevity of memory, also suggesting the way in which the past forms part of the present. Hong Gyong's sense of loss is compounded by the narrator's comment, 'I have no memory of these voices my mother recorded for my father. They have been packed away by the distance of time; mementos of a journey still being taken.'
Kim prefers a documentary style of storytelling based on her personal memories and experiences. Recurrent themes in her work include cultural identity and representing the position of the child (see also Driving Home, 1999). Mother Tongue is based on the Kim family's original language-lesson tapes.
Susan Kim Danta recently collaborated with Wendy Chandler on Heirlooms (2009), a series of 13 short animations for SBS.
Mother Tongue screened at a host of international fim festivals in 2003, and won prizes at the Melbourne International Animation Festival (Best Australian Film), the St Kilda Short Film Festival (Best Animation) and the Sydney Film Festival (Highly Commended at Dendy Awards). It was nominated for Best Short Animation at the 2003 AFI Awards.