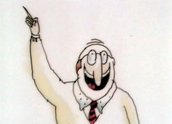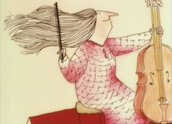 The Maitland and Morpeth String Quartet (1989)
Synopsis
Mr and Mrs Flynn who live in Maitland, a New South Wales country town, form a musical quartet with Leo, the local greengrocer, and Consuela, a young female bank teller. When Consuela marries and moves interstate, Leo is heartbroken and the trio, dissatisfied with their reduced performance, searches for a replacement. Leo discovers that one of his customers, Dolores Costello, plays the cello. She refuses an invitation to join the group until after he rescues her from the flood which threatens the district. When the floodwaters subside, the quartet resumes their public performances which have a transformative effect on the lives of the townsfolk.
Curator's notes
The Maitland and Morpeth String Quartet is primarily a 2D hand-drawn cel animation but also includes photographic and abstract imagery. A love story set in the year of the Great Maitland Flood of 1955, the film is based on a rhyming narrative poem of the same name by Nicholas Enright and recited by the late Australian actor, Ruth Cracknell. The poem had previously been performed on ABC radio, also recited by Cracknell, and made into a book illustrated by Victoria Roberts, the film's art director, who has become a well-known cartoonist for The New Yorker and The Australian.
This humorous animated film is produced and directed by Australia's first woman animator, Anne Jolliffe. Anne doggedly pursued her desire to become an animator at a time when there were no courses dedicated to animation or filmmaking in Australia and at a time of gender inequality in the animation industry.
Early in her career, she was employed in the film unit of the CSIRO and made TV commercials at Fanfare Films for Channel Nine, where she was trained by animators from Disney and Warner Brothers studios. Whilst working in London, she was a key animator on the Beatles film The Yellow Submarine (1968) and was one of the two animation directors for the 1975 Academy Award-winning short film Great (1975). Following her return to Australia, she worked on director Alex Stitt's animated feature, Grendel Grendel Grendel (1980).
The Maitland and Morpeth String Quartet was produced by Jolliffe's own studio, Jollification, in Sydney. It fulfilled Anne's quest for a film which was quintessentially Australian but 'not about boomerangs, beer, barbecues or even bunyips' (Jolliffe in Quigley, M Women Do Animate, 2005, Insight Publications).
The film sold to ABC television and Britain's Channel 4, and screened at international film festivals, including a special tribute screening for Anne at the Annecy International Animation Festival in France in 2003.