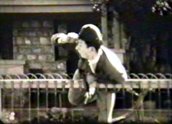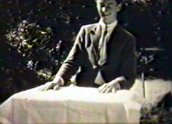 Magical Powers (1936)
Synopsis
A young man (Doug Rosenthal) who falls asleep in his front garden finds magical powers that allow him to conjure a new car, move furniture and create a feast. However, as he finds out, all is not what it seems.
Curator's notes
Magical Powers was made by the Wanderers Amateur Cine Society (later the South Australian Amateur Cine Society or SAACS) – South Australia's first amateur cinema society. It was shot in a single day in Rosella Street, Payneham (a suburb of Adelaide).
The idea behind Magical Powers was to show the audience some of the illusions and simple tricks that can be created with a moving image camera. Constructed around a simple storyline, the films uses stop-frame photography, running in reverse, partially masking the image, dissolves and invisible wires. It is an accomplished small production made believable by a charismatic and endearing performance by Doug Rosenthal as the young man. Well-used intertitles add to the comedy.
Amateur cine societies first emerged in Australia during the 1930s and were influential in the establishment of the country's most established film festivals. The South Australian Amateur Cine Society and the Adelaide Filmo Club produced many dramatic and non-fiction works from the 1930s onwards including The Felt Hat (1951) and The New Car (1953). Amateur filmmaking, of course, existed even earlier than this and Browne, George: Our movie memories 1928-1934 is a strong example of a dramatic fiction created by a family.
Producer and co-scriptwriter John Mack (or CJ Mack as he is sometimes credited) became interested in film after initially working at the photographic firm Harrington's in the 1930s. He began using moving image cameras and quickly became involved in making amateur films with both the Wanderers Amateur Cine Society (later the South Australian Amateur Cine Society or SAACS) and the Adelaide Filmo Club. During the Second World War Mack was involved in the Visual Education Unit of the Australian Defence Force and was posted to the Northern Territory where he filmed troops and civilians.
The National Film and Sound Archive holds a 16 mm preservation print of Magical Powers along with a video transfer of the film which has explanatory commentary provided John Mack.