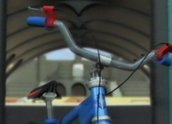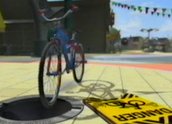 Love Tricycle (2003)
Synopsis
Welcome to Rimside, a town completely populated by bicycles. Rimside High School has just closed for the holidays. Beau is contemplating the lonely holiday ahead when he catches sight of Bec – the girl of his dreams. In a classic story of boy-bike meets girl-bike, Beau goes on a quest for Bec's love – but has her jealous ex, Harley, to contend with.
Curator's notes
This short 3D animation is motivated by a classic animator's challenge: how to give life and human qualities to an inanimate object. Director Andrew Goode has picked quite a complex object at that – the bicycle. To invest bicycles with feelings and enable them to communicate, he uses not only animation but multiple cinematic devices. Framing, editing and music allow the audience to relate to the bicycles as they typically might to human characters on screen (see clip one). Design also provides insights into character, not to mention some fun for the bike nerds in the audience – Bec and Beau with their old-school city bike and beach cruiser designs seem made for one another, while Harley the hotted-up dirt bike looks appropriately rough and mean.
Familiar story and genre cues also give meaning to the trio's actions. The title Love Tricycle is a play on 'love triangle' and the plot about love rivals is familiar, enabling us to quickly identify situations and character archetypes. Goode makes playful use of romance film clichés, like the protagonist rescuing the object of his desire from a near disaster and the couple getting to know each other through a montage in the park.
Romance plot aside, the film revels in the detail of a world populated by bicycles (see clip two). The films of US animation studio Pixar are a clear influence and there's an overt nod to their 1987 bicycle short Red's Dream. Pixar would eventually take the concept further, launching its own anthropomorphic vehicle film franchise Cars in 2006 (followed by Cars 2 in 2011).
Love Tricycle was the result of a long development, evolving from a short animation Goode created of two bicycles dancing. Funding from the Pacific Film and Television Commission (now Screen Queensland) later enabled him to assemble a script, animation and design team and take the 13-minute short through a two-year production process.
Love Tricycle has screened extensively at international festivals, including the Aspen, Clermont Ferrand and St Kilda short film festivals and the Sydney International Film Festival. It has won multiple awards including Best First Work and Best Children's Film at Brazil's Anima Mundi Festival, Best Animated Short at the Philadelphia Film Festival and the People's Choice Award at the Brisbane International Film Festival.