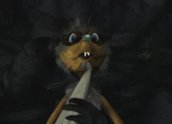 Love Song (1998)
Synopsis
Supported by a bedraggled band of musician rats (voiced by Richard Gray and Bruce Currie), the hero – lovelorn, poetical Rat (sung by Paul Livingston) – bravely puts his life on the line. He ventures into the mysterious cave of Pussy (voiced by Miche Bonett), his love object, whom he cajoles with gifts and poetic declarations. Pussy toys with his affections but Rat emerges, wiser if slightly the worse for wear.
Curator's notes
The creator of Love Song, Bruce Currie, is an all-round entertainer – actor, writer, director, producer, illustrator and animator. In this animation he conjures up a world that is at once familiar and bizarre, inhabited by creatures that share animal and human characteristics.
An experienced animator with a rare sense of humour, Currie gives us a band of bedraggled country-rock musicians who support and comment on their buddy's quest for love. The fact that they happen to be rats, and that the love object is a giant pussy cat, gives the film its unique and surreal appeal. Rat, the hero of the story, is admirable in his undeterred quest for Pussy; even as she nearly skewers him with her giant claw, he sings:
I love you, Pussy,
Pussy, je t'adore.
Try me once there, Missy,
You'll come running back for more!
Bruce Currie's Love Song treats the theme of love with bravado, originality and humour. His films have been broadcast on SBS Television's Eat Carpet (1989–2005), with long-time collaborator Paul Livingston (also known as Flacco) providing a live-action foil to Currie's animated forays.
Love Song screened on SBS Television in 1998 and at the Stuttgart International Festival of Animated Film in Germany in 1999.