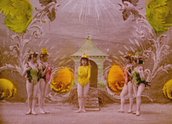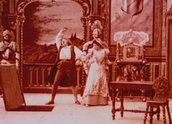 La Poule aux Oeufs d'Or (1905)
Synopsis
A farmer and his wife discover that the hen they bought at a market is magical, laying eggs of gold. They amass a wonderful fortune and live a rich life, with their golden eggs hoarded in a secret basement. After thieves try to steal the fortune, the farmer's greed eventually drives him mad.
This silent French short was screened at the vaudeville-style performances of the Corrick family entertainers who toured Australia and the world between 1901 and 1914.
Curator's notes
La Poule aux Oeufs d'Or (The Hen that Laid the Golden Eggs) is a popular film within the Corrick Collection for its innovative special effects. Director Gaston Velle worked with Segundo de Chomon, one of the world's first special effects artists, on a number of Pathé films. This film is notable for the combination of brilliant stencilled colour and wild effects, while giving close attention to the fable or moral nature of the story being told.
This tale of the hen that laid the golden eggs is a familiar fairytale. The film tells it in four acts: The Conjurer's Lottery, The Fantastic Fowls-House, Ephemeral Fortune and The Miser's Fate. The hen's golden eggs provide plenty of opportunity to pause and revel in fantastic displays, such as when the golden hen turns into a lovely woman, who in turn transforms her fellow chickens into a troupe of elegant dancers (see clip one). The magic and the mood turn dark when thieves try to steal the eggs and the farmer is driven mad by greed, his paranoia arrestingly depicted as he is surrounded by surreal disembodied eyes.
The film's epilogue is a fanciful display of magic as the barnyard turns into a fairyland and golden eggs hatch to reveal beautiful women, made even more so through the use of intricate stencilling and liberally-applied, still vibrant dyes.
The Corrick family entertainers toured Australia and the world in the early 1900s with a live variety show incorporating silent films, including La Poule aux Oeufs d'Or. This film runs for 873 feet and was originally projected at 16 frames-per-second. It also features in My Bicycle Loves You, a show by physical theatre troupe Legs on the Wall for the 2011 Sydney and Perth Festivals.