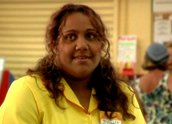 Bit of Black Business – Jackie Jackie (2007)
Synopsis
Jinaali (Elaine Crombie) works at Sunny Fresh Supermarket. She stands out from most of the other blond employees and customers. She initiates an 'equal opportunity line' so she can serve those of difference and like mind. Her boss, Mr Chuck (Roy Billing), doesn't appreciate her efforts and continues to bully and belittle her in front of everyone, contradicting the 'Sunny Fresh' attitude that he hopes to perpetuate. Jinaali's co-worker Daphne Ann (Tempany Deckert) takes great delight in her humiliation.
While relaxing at home Jinaali sees a salesman (Wayne Blair) advertising a new product, a Jackie Jackie in the Box. She orders one so it can say what she wants to say. The next time Mr Chuck confronts her she brings out Jackie Jackie (Wes Patten) who starts on a tirade. But it's not exactly what she means to say and he has to be put back in the box. Only when she speaks up for herself, reminding Mr Chuck that 'we're all a part of the human race', does she get full support from her customers.
Curator's notes
Jackie Jackie is a slick short, reminiscent of films such as Strictly Ballroom (1992) and Tracey Moffatt's BeDevil (1993) in its stylised kitsch. It came out of a dream that writer-director Adrian Wills had: 'It was full of colour and reminded me of Willy Wonka – blackfella style'.
The film has a hyper-real carnival atmosphere, thanks to the cinematography of Allan Collins, art direction of David Malek and Xanthe Heubel's costumes. The soundtrack accompanying the film was designed by Liam Egan and composed by Christopher O'Young.
Jackie Jackie was produced by Kath Shelper as part of the Bit of Black Business initiative by the Indigenous unit of the AFC, and premiered at the 2007 Message Sticks Indigenous Film Festival in Sydney.