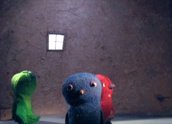 It's Like That (2003)
Synopsis
Three children in an Australian detention centre are depicted as caged migratory birds. They recount details of their voyage to Australia, food, their environment, imprisonment and freedom.
Curator's notes
An animated documentary, It's Like That is based on telephone interviews with three children aged 11–12. The children, unidentified at the families' request, are asylum seekers held for four years in mandatory detention under Australian law. The interviews were conducted by Jacqueline Arias for the ABC Radio National program Street Stories in February 2002. At the time of the interview, the children had been in detention for more than a year.
The film is a combination of digital and traditional animation techniques, and was created collaboratively and self-funded by the Southern Ladies Animation Group (SLAG), a group of 13 independent animators based in Melbourne. The group had previously produced SLAG member Sophie Raymond's video clip, Mr Convenience (2001). For It's Like That, each member of the group animated in their own style including stop-motion knitted puppets, hand-drawn animation on paper, and 3D computer techniques. The disparity of methods is unified by the colour scheme, the recording of the children's voices and the background music and sound.
It's Like That is a very moving film with universal appeal. The children, like all children, first talk about their food likes and dislikes. They then proceed to recall details of their trip to Australia aboard a leaking boat and how one of them witnessed a boat full of refugees capsize after the boat was set on fire. The haunting nature of the children's own words – 'All the children sad', 'I think if we stay here we will die' – is further emphasised by the dramatic contrast between the freewheeling sea birds in the opening sequence and ensuing scenes of the bird puppets enclosed in a room with a small solitary window.
It's Like That has screened at over 60 festivals and conferences following its world debut screening at the Amsterdam Documentary Film Festival in 2003. It had a theatrical release over the Christmas period 2004–05 in Dendy Cinemas in Melbourne, Sydney and Brisbane and screened at the 2005 Sundance Film Festival in the US. It won Best Australian Film at the Melbourne International Animation Festival and was nominated for Best Short Animation at the 2004 AFI Awards. Amnesty International has licensed the film for its educational programs.