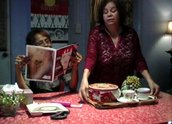 Bit of Black Business – Hush (2007)
Synopsis
Ethel's daughter (Lisa Flanagan) is getting ready to go to bed when she discovers that her mum has forgotten her medication. When there's no answer to her knocks at the front door, she discovers Ethel (Auriel Andrews) and her friend Mary (Marlene Cummins) out the back, and quickly realises they are definitely not 'playing cards' or watching a 'big game'.
Curator's notes
This is a first film for writer-director Dena Curtis from the Northern Territory, who usually works as a film editor and production coordinator, and her first, convincing attempt at comedy.
When Ethel's daughter is scolding her mother, Ethel has to remind her of their respective roles. 'I'm the mother and you're the daughter', she says, effectively using humour to clear the air.
Hush was produced by Kath Shelper as part of the Bit of Black Business initiative by the Indigenous unit of the AFC, and premiered at the 2007 Message Sticks Indigenous Film Festival in Sydney.