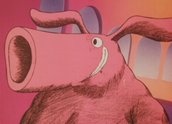 Hot to Trot (1977)
Synopsis
Captain Goodvibes and Astro stroll out beneath a psychedelic sun for a date with destiny. They depart a minaret city of the East on an ornate barge, rowed by unseen minions. Fish dance on the deck until a giant serpent chases them away. After a 'continental breakfast' of methylated spirits and marijuana, Goodvibes drops a portable H-bomb on the barge and takes off on a huge wave. He has a head-on collision with a garlic prawn and washes up on an island paradise, where maidens ply him with tropical fruits and gin. Too late he discovers that the island sits on the head of a giant island spirit, who walks off into the sunset.
Curator's notes
From his first appearance in the surfing newspaper Tracks, in 1973, Captain Goodvibes was a major hit with young Australian readers. The pig of steel was irreverent, immature, indestructible and single-minded in the pursuit of pleasure in all its forms – chemical, physical and tubular. He was created by Sydney cartoonist Tony Edwards, who had grown up in Manly and became a draftsman. Edwards was never a surfer.
Goodvibes was an antihero for his age. Australia was still in Vietnam, fighting with the American cause, but Gough Whitlam had come to power in Canberra in 1972, and there was a strong streak of anti-authoritarianism on the fringes of the Australian media. There were underground publications in most capital cities, often centred on the universities. Censorship in the 1960s had helped to keep them popular, with regular attempts to ban whole issues.
Goodvibes could be seen as an expression of the outlaw roots of surfing. Surfing had become more mainstream in Australia during the 1960s. By the early 1970s there was a backlash against commercialisation and competition. Tracks was set up as a surfers' newspaper, printed in Australia on newsprint, rather than in Hong Kong or Singapore on glossy paper, like the other surf magazines. It was not just for the surfing reader. Co-founder David Elfick, who produced Hot to Trot, aimed it at all kids, trying to make it both relevant and cheeky, with a lot of content generated by the readers, through letters.
Tracks carried stories about the environment, alternative lifestyles and politics in Australia. Goodvibes became the paper's unofficial mascot, the character who encapsulated the sense of fun and larrikin humour that had a long tradition in Australia.
He may have been influenced by the rise of gross-out humour in Australian films, such as The Adventures of Barry McKenzie (1972), which came out a year earlier. He might also have been influenced by the newly popular American writer, Hunter S Thompson, father of 'gonzo' journalism. Goodvibes was rarely seen without a large marijuana cigarette, he drank industrial quantities of bad liquor and carried his own supply of pharmaceuticals. If Barry McKenzie was a beer-guzzling fool for an older generation, the pig of steel was perfect for Australian teenagers, looking for a reflection of their own preoccupations, especially if those were surfing, girls and new forms of intoxication.