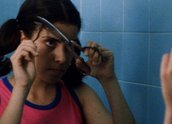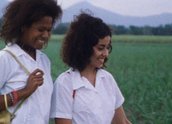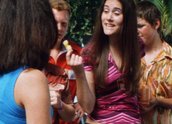 Hey Sista! (2001)
Synopsis
Fourteen-year-old Lisa Canavada (Phaedra Nicolaidis) struggles to find her place in the world after her father, Remo (Michael Futcher), has an accident and forces her to change schools. Her agony is compounded when her hair turns curly when all she wants is to fit in with the straight-haired Roberta (Natalie Blair).
Lisa finds friendship where she least expects it when Marlene (Maria Tusa), a feisty Indigenous girl, convinces her she has an afro and can play with the Indigenous basketball team. Lisa's friendship is put to the test with some unexpected outcomes.
Curator's notes
Set in Far North Queensland in 1975, Hey Sista! tells the story of an Italian girl who, in her own words, just wants to play basketball … and have straight hair! The film offers a snapshot of the dramas of teenage existence to which many can relate, primarily finding acceptance (including self acceptance) and one's own place in the world. We see this as Lisa agonises about her curly hair and fitting in with those that ridicule her.
Interwoven with Lisa's story are messages about racial inequality, friendship and overcoming trauma. While not a story about Indigenous issues or Indigenous rights – rather more likely a reflection on writer-director Jan Cattoni's own experiences of 1970s Australia – such issues come to the fore through the inherent racism seen in most of the characters and a surprise inclusion of Gough Whitlam. Whitlam famously supported Indigenous rights and handed back the Gurindji homelands at Wave Hill to Vincent Lingiari in 1975, an action which later inspired the anthem From Little Things Big Things Grow (1993).
For the majority of the film Lisa is overcome by her own problems and can't see past her predicament. It is only after she finds true friendship and acceptance with Marlene and the all-Aboriginal girl basketball team that she rises above the superficial concerns about her appearance and defends her friends in the face of racism, even sacrificing her overwhelming desire for straight hair to silence the racism. It is poignant that it is the murri (another word for Queensland Aboriginal) girls, who are far more accustomed to discrimination, who are the most accepting of Lisa for who she is.
It is also through this friendship that Lisa discovers her father's true bravery and strength and provides a catalyst for change. Through Remo's story Cattoni draws attention to the pervasive after-effects of traumatic events, not just for the victim but for their families. This is evident in Remo's self-imposed isolation and the inability of the characters to address the situation in a time before post-traumatic stress disorder was recognised.
Hey Sista! screened at film festivals including the Sydney Film Festival and the Commonwealth Film Festival in the UK, both in 2002. It won prizes for Best Open Film and Best Film with a Reconciliation Theme at the 2002 Queensland New Filmmakers' Awards.