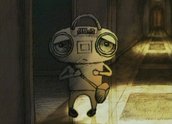 Synopsis
This gently funny short is a take on the classic 'boy wants girl' love story, set in a fantastical world where all the characters have music players for heads. A boy with an analog tape recorder for a head, is a shy and awkward romantic. The object of his desire has a more up-to-date digital device (a portable CD player). The metaphor extends when the boy seeks advice from a wise old man, whose head is a gramophone.
Curator's notes
Hello is free of conventional dialogue, instead communicating a familiar story and character dynamics through a playful shorthand of visual metaphor and music. Director Jonathan Nix is a musician and visual artist as well as an animator and it shows: a beautiful aspect of this film is how sound and image combine to tell the story.
Given the musical visual metaphor it is fitting that music is also fundamental to the communication of the story. The characters talk to each other using whatever recordings they are able to play on their heads. As the boy pursues the girl, Nix delivers a wonderful play on the notion of giving the object of your affections a mix tape. Beyond this, Nix's score is fundamental to communicating the emotion and structure of the story.
The animation is beautifully realised, a combination of hand-drawn ink on paper line drawings with 2D and 3D digital elements. Nix completed Hello while studying at RMIT's postgraduate Centre for Animation and Interactive Media (AIM). He has since made a number of other award-winning animated short films and music videos including a half-hour animated prequel to Hello, The Missing Key (2011).
Hello screened widely at international festivals and garnered multiple awards, including the FIPRESCI Award at the Annecy International Animated Film Festival, Best Animated Short Film at the Los Angeles and Seattle International Film Festivals, an AFI Award in 2003 for Best Sound in a Non Feature and awards for directing and sound at Flickerfest.