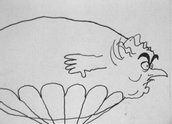 Peter Nicholson Animations – Gough's World Tour (1974)
Synopsis
Political cartoonist Peter Nicholson satirises Gough Whitlam as he heads off on a world tour following a record anti-Labor vote in the Queensland State elections.
Curator's notes
On 7 December 1974, the Country-Liberal Coalition, led by Joh Bjelke-Petersen, won 69 of the 82 seats at the Queensland State election in a landslide victory. It was a record anti-Labor vote in Queensland at the time. Not long after, on 14 December, Australian Prime Minister Gough Whitlam embarked on what he termed a 'long overdue' European tour.
It was the first visit by an Australian prime minister to Europe in 15 years, and the first ever by an Australian prime minister to the European Commission. However Whitlam was under a refrain of constant criticism from the media for going overseas too often – most famously for visiting historic ruins.
Peter Nicholson was an early innovator in animated political cartoons, producing a regular series for the ABC and News Centre Nine during the 1970s. He made his short animated films with a 16mm Bolex camera and homemade animation stand. This experience served him well when he produced the popular Rubbery Figures (1987–88) series in the late 1980s. Peter still animates today for the online version of The Australian newspaper and his own website.
This cartoon was made and broadcast on 9 December 1974 on the ABC's nightly current affairs television program, This Day Tonight (1967–78).