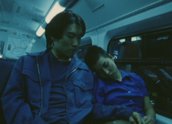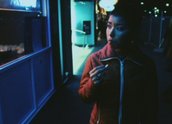 Flowergirl (1999)
Synopsis
Japanese surfers Daisuke (Toshiyuki Chiba), Hana (Mikiko Ooka) and Tetsu (Jun Iwasaki) share a Bondi flat together. After a year in Australia, Daisuke must return to Japan. Although he is a vegetarian, out of obligation he will go and work for his father, a butcher. Daisuke spends his last days recording the people and places around him on his camcorder, especially Hana, with whom he is secretly in love.
Curator's notes
Infused with a sense of melancholy and alienation, Flowergirl is about cross-cultural experience, departure and unrequited love. Shot on 16mm, its vision of Bondi is grainy, high-contrast and saturated with colour, in particular washes of blue or pink. Shortland's distinctive visual sensibility and mood-oriented storytelling in this film form a continuum with other works, including her previous short Pentuphouse (1998) and her first feature, Somersault (2004).
On one level a meditation on transience, Flowergirl also has dark notes. Daisuke's videos of Hana hint at voyeurism and obsession. A running motif of butchers, meat and blood adds a physical, visceral quality, which peaks in a horror-infused dream sequence. These images seem a counterpoint to Daisuke's emotional reserve and lack of physical connection with Hana, and to the blue coolness that washes over much of the film. Shortland plays with a number of contradictions and contrasts: a vegetarian working in a butcher's shop; emotions communicated on tape but not in person; a travelling surfer's freedom versus family and cultural obligations; pink versus blue.
Like Pentuphouse, Flowergirl creates a shifting perception of a relationship with ambiguous power dynamics. When Hana uses Daisuke's camera to record some scenes of her own, she alters the dynamic between watcher and watched, taking charge of her role as the object of his gaze.
Shortland started work on what would become Flowergirl after becoming interested in the Japanese surfing community in Bondi. Speaking to australianscreen in June 2009, she says the anti-Asian sentiments expressed by politician Pauline Hanson in the late 1990s created an extra incentive to engage with this community. She initially started developing a documentary but soon recognised that she preferred working with fiction. While researching, she met photographer Jun Tagami. They wrote Flowergirl together in English before it was translated into Japanese, with Tagami also helping with translation on set. Flowergirl's cast are non-actors, some of whom were also preparing to return to Japan after a year in Bondi. According to Shortland, this 'brought a lot to the film. There was a melancholia in the characters about what was happening.'
Flowergirl sees the first collaboration between production designer Melinda Doring and cinematographer Robert Humphreys, who have teamed up on numerous other films, including Somersault, David Caesar's Mullet (2001) and Jane Manning's Delivery Day (2000).
Flowergirl screened at numerous international film festivals including Aspen, Clermont-Ferrand and Oberhausen. It won the 1999 Sydney Film Festival's Dendy Award for Best Short Film (over 15 minutes) in the same year that Shortland's Pentuphouse won the under 15 minutes prize. The film also won awards at Oberhausen, the St Kilda Film Festival (Best Short Film and Best Director), Flickerfest (Best Director and Best Sound) and Best Short Film at the Women on Women Australian Film Festival and from the Film Critics' Circle of Australia.