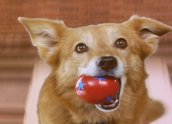 Synopsis
The story of a man (Matt Day), his date (Rebecca Frith), her dog (Mindy) and how quickly a fledgling romance can progress from awkward to awful.
Curator's notes
There is nothing redundant in this funny, punchy short film. Restrained dialogue and performance and the confined location of a high-rise apartment feed into a classic comic structure. The opening feels a little like Woody Allen territory as the characters bluff through their first date awkwardness with a few lines of casual chitchat. This premise is then channelled into a comic escalation of mishaps with a double-barrelled payoff. Day gives a finely-tuned comic performance.
Fetch received funding from the New South Wales Film and Television Office's Young Filmmaker's Fund. It was Lynn-Maree Danzey's directorial debut after working on several of Jane Campion's films. When it was made, Matt Day had just starred in Kiss or Kill (1997) and Doing Time for Patsy Cline (1997) and Frith in Love Serenade (1996).
Danzey and writer Judi McCrossin both went on to work in TV drama. McCrossin was a key writer for The Secret Life of Us (2001–04), The Surgeon (2005) and Tangled (2010). Danzey has directed episodes of The Secret Life of Us, All Saints (1998–2009) and Packed to the Rafters (2008–current). Susan MacKinnon's producing credits include Eternity (1994) and Global Haywire (2007).
Fetch screened on SBS Television and was selected in the Short Film Official Competition at the 1998 Cannes Film Festival. It received a High Commendation at the Sydney Film Festival's Dendy Awards and screened at over 50 international film festivals.