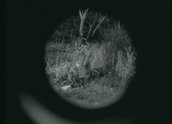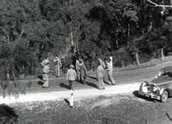 The Felt Hat (1951)
Synopsis
A short murder-mystery made by the South Australian Amateur Cine Society (SAACS) and directed by John (CJ) Mack.
A man lies dying on the side of a riverbed deep in the bush. A couple picnicking nearby witness the culprit hiding in the scrub. As the victim's felt hat drifts downstream, the couple attempt to capture the man's killer.
Curator's notes
According to the film's director John Mack, The Felt Hat was 'probably the first real attempt at drama ever made in South Australia'. The film starred Lionel Williams who went on to become a well-known Adelaide television personality. It was scripted by John Maher who was working for the ABC at the time and wrote scripts for the radio serial Blue Hills. (His original script for The Felt Hat is held at The National Film and Sound Archive). Heather Steen who plays the only female character in the film, also read for Blue Hills.
The camerawork makes good use of the bushland location and takes advantage of the hilly terrain with camera angles that accentuate the characters' positions in the landscape. The repeated image of the felt hat floating down the river (which represents the unidentified victim) works on both a visual and symbolic level. The murder-mystery plot draws on elements of 1940s crime fiction and Hollywood film noir and uses them to good effect.
The National Film and Sound Archive holds a black-and-white silent 16 mm copy of The Felt Hat as well as a video copy with music and commentary provided by John Mack. John Mack worked with both still and moving images, beginning his career working with the photographic firm Harrington's. Mack became involved in the amateur cinema movement in South Australia and during the Second World War filmed troops and activities in the Northern Territory.