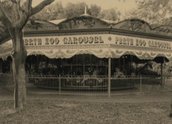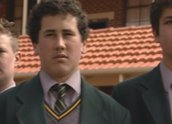 Deadly Yarns – Don't Say Sorry (2004)
Synopsis
Christine Jacobs, a Western Australian Aboriginal woman, provides a short account of the pain she suffered as a child of the stolen generations when she was removed from her family. Jacobs tells how as an adult she liberated herself from the scars of an abusive childhood. She now works to help schoolchildren overcome the challenges in their lives.
Curator's notes
The opening scene of Don't Say Sorry shows a young girl sitting on a carousel at the Perth Zoo. It reflects the starting point of Christine Jacobs's story as an innocent child. Jacobs tells of how her hopes and dreams as a child were thwarted by injury and abuse.
She explains, 'I don't want your pity. I don't want any government or prime minister to say sorry to me. I just want you to understand and acknowledge.' She then asks the audience, 'Will you listen to me?'.
In highlighting the depression in her life Jacobs explains, 'In the pit you go sliding down and down and down. I was in that pit. There was alcohol, drugs, gambling and violence.' Don't Say Sorry exposes the raw emotions of anger, sadness, and despair felt by Jacobs in her childhood and how these emotions manifested in her adult life. The power of this short film is Jacobs describing how she overcame these emotions and turned her life around.
The film addresses the impact of low self esteem and depression. Jacobs managed to claw herself back from this seemingly 'bottomless pit' by confronting her abusers and thanking those who tried to help her. Hers is an inspirational story particularly relevant to those battling similar issues or working with people who suffered abuse during their childhood.
Don't Say Sorry was broadcast on ABC Television as part of Message Stick in 2004.