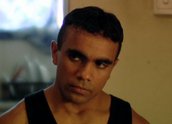 Bit of Black Business – Days Like These (2007)
Synopsis
Days Like These is a day in the life of Dan (Jordan Gee-Hoy), a young Aboriginal man who is trying to get ahead, but it seems the odds are stacked against him. Living with his single working mother (Lillian Crombie), Dan is keen to help pay the bills, so he scrapes together a few dollars and sets out to find a job in the city. He encounters rejection after rejection, is often personally escorted off the premises and has difficulty getting a taxi to stop for him. He is also made to feel guilty because his father is in jail. The last straw is when he meets with police harassment.
Curator's notes
Days Like These by Townsville-based writer-director Martin Leroy Adams is set around Redfern in Sydney. The main character, Dan, draws on the techniques that have helped him succeed in sport to rise above the racial stereotypes he encounters. He believes 'How you fall doesn't matter, it's how you land that counts'. An alarm clock buzzes at the end of the film. Is it all a bad dream or the beginning of another day?
Days Like These was produced by Kath Shelper as part of the Bit of Black Business initiative by the Indigenous unit of the AFC, and premiered at the 2007 Message Sticks Indigenous Film Festival in Sydney.