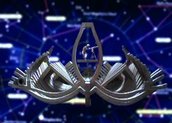 Dad's Clock (2001)
Synopsis
Dad's Clock is an abstract, autobiographical film which celebrates the life of the animator's late father. The son, represented by a large metal bird, is re-united with his father (a bespectacled timber puppet), who, after being diagnosed with cancer, has decided to spend his final days building a timber clock. The film is narrated by Barry Otto.
Curator's notes
This stop-motion animation is a short film featuring timber and brass models. Comprising 1,000 moving, handmade pieces and 22,000 frames of footage, it took two years to complete. Dik Jarman, who has a background in architecture as well as puppet animation, deliberately chose abstract images in order to focus on the complex emotions of the story. This is aided by the gentle voice-over narration by Barry Otto which Jarman believes is in keeping with the story's 'fragility'.
The film utilises a number of striking visual and aural metaphors to represent the passage of time and the death of the father character. These sounds include the ticking of a clock and the tolling of a bell. The man's progressive illness is visually evoked by his exposed ribcage and the falling away of the wooden slats of the boat on which he stands.
His death is represented by his descent into the vessel's interior followed by the closure of its struts around him. The sense that, ultimately, humans are alone in a vast universe is conveyed by the shot of the man's solitary figure as he gazes at the stars through a telescope, framed by the ship's skeleton against an inky blue backdrop of a map of the cosmos.
At the time of writing, Dik Jarman is working on a 13-part puppet series and a live action feature.
Dad's Clock screened widely at film festivals, including the 2002 Sydney Film Festival and the Annecy Animation Film Festival in France. Its prizes included Best Animation at the Nashville International Film Festival, Best Film at the Melbourne Fringe Festival and Best Use of Digital Technology at the St Kilda Film Festival. Dik Jarman also won the Open Craft Award (for Production Design) at the 2002 AFI Awards. Dad's Clock was broadcast on SBS as part of Home Movies in 2002.