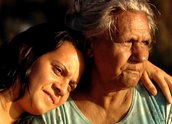 Bit of Black Business – Custard (2007)
Synopsis
When her grandfather dies, a young woman (Amy Miller-Porter) travels by ferry to support her Grandma (Freda Glynn) at the funeral. The journey to her family's island home leads to a reaffirming of self and a chance for the Granddaughter to provide support.
Curator's notes
The Granddaughter describes her grandmother as 'five foot four-and-a-half with golden brown skin and those brown eyes that look like they are going to burst into tears'. Grandma is the archetypal gentle matriarch who anticipates her Granddaughter's arrival, preparing custard, an old family favourite. She describes her Granddaughter as 'a clean rush of fresh air'.
Directed by Michelle Blanchard, Custard is a reflective and nostalgic view of one family's Sorry Business from an insider perspective. Filmed on beautiful Minjerribah (North Stradbroke Island) by cinematographer Murray Lui, Custard also deals with the rarely spoken of subject of schizophrenia.
Custard was produced by Kath Shelper as part of the Bit of Black Business initiative by the Indigenous unit of the AFC, and premiered at the 2007 Message Sticks Indigenous Film Festival in Sydney.