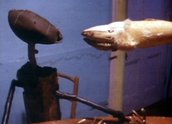 Synopsis
The protagonists of this surreal drama are two semi-assembled figures (voiced by John E Hughes and Bruce Currie). One resembles a medieval knight with a propeller head, the other's head is a cross between an AFL football and an African sculpture. Seated around a kitchen table, they argue over a broken biscuit. Each hallucinates a different fish – their elusive dinner. A family of hardworking ants has the last word.
Curator's notes
The setting for this film, a kitchen, is the only familiar element in the otherwise surreal and hallucinatory world of Crust. Created by artist John E Hughes (AKA Hobart Hughes), the story of this stop-motion animation makes as much sense as a dream, and resembles one, with its vivid yet disconnected characters and action. The dialogue between the two protagonists entertains and surprises, and the talking ants are most appealing.
An evolution of a previous work by John E Hughes, Germ of an Idea (1986), Crust won the Australian Film Institute Award for Best Short Animation in 1987. It screened at the 1988 Melbourne International Film Festival and was broadcast on SBS TV as part of Eat Carpet in 1990.