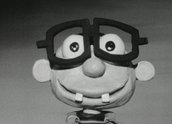 Cousin (1998)
Synopsis
The narrator (voiced by William McInnes), tells the story of his childhood friend and Cousin, who has celebral palsy and always smells of liquorice.
Curator's notes
Cousin is Adam Elliot's second film and part of the trilogy of short films about his family that began with Uncle (1996) and ended with Brother (1999). Employing claymation and a monochromatic palette, we see an evolution of what has become Elliot's signature style.
Cousin is evocative and humorous. When Cousin has to take anti-convulsion pills, he says they give him superpowers. Though his left arm 'has a mind of its own', his right arm plays a mean game of cricket. The two friends play with an old shopping trolley; when challenged and called a 'spazzo', Cousin hits back (see clip one).
When the storyteller is eight, Cousin's parents are killed in a car crash, and Cousin moves to an interstate foster home. Much later, he sees Cousin in a shopping centre collecting trolleys, and hopes that he is happy, wondering whether he still smells of liquorice. As with Elliot's other films, the story is paramount; the hero, though much challenged, is brave, endearing and memorable.
Cousin won the 1999 AFI Award for Best Animation and was nominated for Best Non Feature Screenplay. It also won awards at the 1999 Aspen International Short Film Festival, Sydney Mardi Gras, St Kilda Film Festival and Provincial Comedy Film Festival, and was Highly Commended at the Sydney Film Festival Dendy Awards in 1999. It screened on SBS Television.