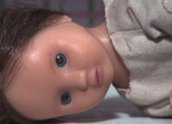 Synopsis
In her suburban home, 12-year-old Clara tries to come to terms with a life-changing event.
Curator's notes
This stop-motion animated short explores the difficult territory of a child's experience of grief, using a pared-back, dialogue-free narrative. In Clara's exquisitely constructed world, every detail and every moment seem amplified, filled with a hard-to-define significance. Its wordless impact comes from a powerful focus on young Clara's perception of her environment rather than explicit emotional exposition. The beautiful sets create a prim, pristine suburbia; there is a kind of hyper-focus on its details. Shots linger over wallpaper patterns or take in the squeak of a wooden toy rolling across floorboards.
These amplifications appear to comment on both the limited context of childhood and the altered awareness created by grief. Clara's world, it seems, has become strange and incomprehensible to her; her small actions are attempts at interacting with a new existence. The film's focus on Clara is absolute: she inhabits a strangely empty environment, with not an adult in sight – though a pot bubbles away in the kitchen, indicating that somebody may have just left the room.
Director Van Sowerwine weaves an interplay of the magical and the real into the child's perspective – or perhaps the intrusion of the real upon the magical, as flowers move of their own accord but also attract an ordinary pest, ants. There are shades of horror in her evocation of grief. The heightened suburban detail is a little reminiscent of David Lynch. Sound designer Jennifer Sochackyj builds eerie, discomforting music through passages of quiet.
Clara was created over an eight-month production period, including an intensive 10-week shoot on 16mm. Sowerwine has worked as an artist across multiple media, frequently exploring themes of childhood and its darker aspects. Dolls and doll-like characters such as Clara are a recurring motif in her works, including her earlier animated shorts Gillian (2001) and Doll Stories (2002). Producer Phillippa Campey's other projects include the feature documentaries Bastardy (2008), murundak: Songs of Freedom (2011, with Daybreak Films), The Fibros and the Silvertails (2007) and The Archive Project (2006, with John Hughes).
Clara screened widely at international festivals including Cannes (2005) and Sundance (2006). It was awarded a Gold Hugo for Best Animated Film at the 2005 Chicago Film Festival and a Special Mention from the Cannes Palme d'Or Jury. In 2006 the film had a limited cinematic release in Melbourne, Sydney and Hobart. In 2007 it screened in ABC2's short film series Short and Curly.