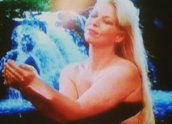 Cheap Blonde (1998)
Synopsis
This experimental film rearranges the same sentence 22 times – 'A famous filmmaker said: "Cinema is the history of men filming women"' – while deconstructing the video image of a woman bathing in a waterfall.
Curator's notes
Cheap Blonde revolves around two basic elements: video footage of a woman and a repeated spoken sentence. Over its five minutes, it renders both word and image nonsensical in a process of deconstruction that references feminist film theory and experimental and avant-garde film traditions.
The way women are looked at on screen, and the implied gender of cinema's 'gaze', have been at the core of feminist film theory over decades, influenced by feminist psychoanalytic theory in the 1970s and postmodernism, cultural studies and identity politics through the '80s and '90s. Cheap Blonde enters the discussion with humour. Director Janet Merewether's choice of image is overtly tacky: the footage of the blonde is indeed cheap. Its origins are interesting, as Merewether explains in her publicity material for the film:
This was shot at one of the stalls at the SMPTE film and television equipment trade show. For several years I have been interested in the fact that (blonde) models are frequently used as sales devices for electronic equipment displays. Lines of grey-suited men can be seen testing out the focus of ever 'new and improved' cameras on the sensual lines of suitably flawless models.
This footage is familiar, reminiscent of decades of advertising imagery, yet here it is emptied of the meaning that would be provided by the context of a film or ad.
Merewether adds absurdity by playing with the grammar of both the spoken word and cinematic language. A voice-over continually repeats and reorders the same sentence. The editing at first seems arbitrary, then increasingly reveals the constructed nature of the image. In these ways Cheap Blonde joins an avant-garde tradition of drawing attention to cinema's constructed nature and exploring alternatives to classic cinematic language.
The choice to work with a limited set of elements is also visible in Merewether's later short Palermo: 'History' Standing Still (2004), which explores the cinematic construction of history. Merewether's other works include a range of shorts and two 52 minute documentaries: AFI Award winner Jabe Babe: A Heightened Life (2005) and the autobiographical Maverick Mother (2007). She has also worked as a titles designer on films including The Boys (1998) and Walking on Water (2002).
For some earlier examples of Australian short films that bring together experimental film and feminist theory, see Jeni Thornley's Maidens (1978), Margot Nash's We Aim to Please (1976) and Shadow Panic (1989), and Helen Grace's Serious Undertakings (1983).
Cheap Blonde received an Honorable Mention at the 1999 Ann Arbor Film Festival and screened widely at international festivals, including the Edinburgh, Melbourne and Sydney Film Festivals.