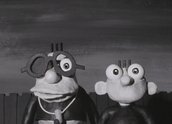 Brother (1999)
Synopsis
The narrator (voiced by William McInnes) tells the story of his larrikin, asthmatic brother. Brother features their parents and the suburban world they live in.
Curator's notes
Brother completes Adam Elliot's family trilogy that began with Uncle (1996) and Cousin (1998). The cast of characters in this film is fuller and more animated than the earlier films and the director's voice more confident as he unfolds his story, capturing us with its humour and pathos.
The boys grow up in the suburbs with Mum, Dad, a pet parrot and neighbours, but nothing else about them is ordinary. Their father, once part of a duo of acrobatic clowns, becomes a paraplegic, then an alcoholic. Their mother sells pies at the football and threatens to send the boys to a boys' home if they don't eat the tongue she serves for dinner.
Brother is asthmatic, with one half of his glasses blacked out. Together, the boys have a lot of fun, with Brother always 'copping it', even when defending his younger sibling: 'My brother didn't look for trouble, it seemed to find him'. Brother, undaunted by his handicaps, wants to be an acrobat like his Dad. But as their neighbour predicts, 'karma' catches up with the luckless Brother.
Invalid, alcoholic Dad, chain-smoking Mum, purple-haired Ruby, school bully Matthew and the bulbous-headed Mr Stewart, provide a fitting supporting cast for Brother, the asthmatic anti-hero prankster. Elliot engages the audience with humour that is sometimes 'schoolboy', but concludes with a scene that is memorable in its compassion.
Like Uncle and Cousin before it, Brother won the AFI Award for Best Animation. It also won the 2000 AFI Award for Non Feature Screenplay. Other prizes include Best Short Film from the Film Critics' Circle of Australia, a 'Special Distinction for its humour and sensitivity' at the Annecy International Animation Festival, Best Australian Animation at the 2000 ATOM Awards, Best Australian Animated Film at the Sydney Film Festival Dendy Awards, and prizes from international festivals including the Aspen International Short Film Festival, Mardi Gras Film Festival and Flickerfest International Film Festival. Brother screened on SBS Television.