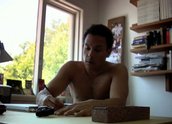 Bit of Black Business – Bloodlines (2007)
Synopsis
Bloodlines, is about making a difficult phone call. The caller is Josh Barnett (Kirk Page) who is a young man that appears to have it all in his modern apartment. He doesn't make the call as he is preoccupied with remembering some voices from the past.
Curator's notes
In the opening scene, the camera tracks over phone lines on the floor, almost like they are veins connecting the caller. Something bigger is at stake here. Throughout the film Josh moves from room to room, nervously scripting and rehearsing for this proposed communication. He has to tell himself 'Just make the phonecall!' Who could be so important?
Bloodlines is a first film for writer-director Jacob Nash who works as a theatre designer. Sound design is by Liam Egan and it features music by David Page. Jacob Nash says his autobiographical film 'Is about the moments in life when you are in a state of flux, a state of limbo, a state of waiting.'
Bloodlines was produced by Kath Shelper as part of the Bit of Black Business initiative by the Indigenous unit of the AFC, and premiered at the 2007 Message Sticks Indigenous Film Festival in Sydney.