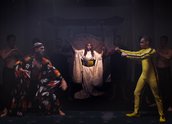 Blackbuster (2012)
Synopsis
Rowdy punters at a kooky Queensland pub stir an unusual awakening in pirated-DVD dealer Kainen (Jeremy Ambrum). As his crush grows for Tanika (Naomi Bowly), the daughter of the publican (Martin Sacks), his uncontrollable imagination takes us on a genre-bending roller-coaster fantasy ride.
Curator's notes
Kainen spends his day peddling pirated DVDs outside the pub and fostering a crush on the publican's daughter Tanika. His movie obsession has given him a skewed viewed on the world which is exposed as his daydreams seep into reality. The results are stylistic and colourful homages to his 'strictly classic' film influences.
The filmmakers skilfully straddle genres using quotes from The Princess Bride (1987) and costumes from kung fu movies, including the iconic Bruce Lee yellow jumpsuit, in slick action sequences, all culminating in a musical number. The latter is obviously the reason why the pub is inexplicably filled with Elvis impersonators, a giant bunny and an astronaut. The film even weaves in video game references, as street fighter-style audio punctuates several scenes of confrontation.
Blackbuster is above all a love story. Kainen has a secret love of romance and especially West Side Story (1961). This filmic reference sets up a reading of the pair as star-crossed lovers with a hint of racial tension. We see this in the publican's obvious disapproval of Kainen, who is on the wrong side of the law and using his pub to set up shop for selling DVDs. Kainen's rebuke, 'You gonna pay for that bit of land your pub's on?', touches on the underlying issue of Indigenous land rights, albeit through humour.
Kainen's confrontation with Tanika's tormentors is unfortunately an anti-climax, particularly given his violent imaginings of the situation, but it does yield positive results with the approval of Tanika's father and her crossover into Kainen's dream world.
Blackbuster screened at the Sydney Film Festival and Melbourne International Film Festival in 2012 and at Flickerfest Film Festival in 2013.