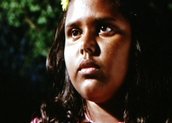 Black Talk (2002)
Synopsis
A short drama about two cousins Tim (Russell Page) and Scott (Laurence Clifford) who are temporarily reunited when city-based Tim returns to visit his family.
Curator's notes
Black Talk is a short film by Wayne Blair, a Butchala man from Rockhampton, who beautifully tells the story of family fragmentation when a young man Tim (Russell Page) moves to the city and loses contact with his cousin Scott (Laurence Clifford). Blair manages to fit a lot into 12 minutes of drama, weaving Indigenous language through the dialogue, as well as exploring the spiritual aspect of Indigenous culture and community.
Black Talk addresses issues of assimilation, and the prospect of an Indigenous city-based person losing community ties when investing in a Western material based lifestyle. Wayne Blair began acting at the age of 23, and has been involved in many theatre productions including, Cloudstreet, Sunshine Club, The Dreamers, Stuff Happens, was guest performer for Bangarra's production of Skins, and in Richard Frankland's play Conversations with the Dead. Blair has directed a recent production of The 7 Stages of Grieving, starring Ursula Yovich, and written by Wesley Enoch and Deborah Mailman.
Other films in the AFC Indigenous Branch drama initiative Dreaming in Motion are Flat, Mimi, Shit Skin and Turn Around (all 2002).