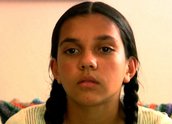 Bit of Black Business – Back Seat (2007)
Synopsis
Janine (Lille Madden) and her foster parents go to visit Janine's real mother Elsie (Lily Shearer) and her other family members. Even though Janine is supposedly the centre of attention, it's her foster mother Beverly (Zoe Carides) who speaks for her. Janine zones out. Consequently she retreats to lay down in the back seat of her foster parents's car, finding some solace behind locked doors. Although she finds herself overwhelmed and her visit will probably be all a blur in hindsight, she has a polaroid snapshot of the family gathering as a keepsake.
Curator's notes
Back Seat captures the awkward situation of a first-time meeting in a household of unknown family members. Evoking the paradox of feeling ties that should be so close by blood, yet in reality are so far removed from familiarity, the film also highlights the opposition of large extended Aboriginal families versus smaller Australian nuclear families.
This is the first film from writer-director Pauline Whyman who is an established actress and playwright, usually working in theatre. Inspired by true events there is an attribution in the credits that declares, 'My gift to my mother Lena Ivy Whyman is that I'm a strong black woman'. Back Seat has a dedication 'To all the stolen children who never made it home'.
Back Seat marks a period in time. The 1970s are convincingly re-created with authentic clothing by costume designer Xanthe Heubel, production design by Samuel Rickard and art direction by David Malek. Sound design is by Liam Egan and music composition is by David Page. The ongoing blur of familial activity and sense of centrifugal force is effectively captured by the lens of cinematographer Eric Murray Lui.
Back Seat was produced by Kath Shelper as part of the Bit of Black Business initiative by the Indigenous unit of the AFC, and premiered at the 2007 Message Sticks Indigenous Film Festival in Sydney.