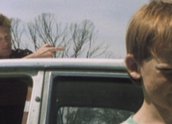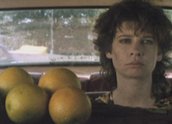 An Exercise in Discipline: Peel (1982)
Synopsis
A bickering red-headed family on a weekend road trip reach a standoff by the side of a country road.
Curator's notes
Peel is joyously experimental, infused with the stubbornness of its characters. Campion allows this shared trait to seep beyond the events of the story and into its very form. She emphasises the repetitive nature of their quarrels with a circular narrative structure and rhythmic editing and sound. She also has fun with the stereotypical connection between short tempers and red hair, making oranges, the fruit, trigger the family's argument.
At the 1986 Cannes Film Festival, Campion won the short film Palme d'Or for Peel, made when she was a student at AFTRS in 1982. The film was apparently poorly received at the time by her teachers. 1986 was a big year at Cannes for Campion. Along with Peel's win, her telefeature Two Friends (1986) and two more of her AFTRS shorts, Passionless Moments (1983) and A Girl's Own Story (1983), screened in Un Certain Regard. Jane Campion's later, landmark Palme d'Or win for The Piano (1993), remains at the time of writing the only occasion on which a female director has received the award for a feature film.
Campion's student films tend to sidestep, or experiment with, conventional cinematic narrative categories and Peel toys with both narrative and documentary form. The Pyes, including fashion designer Katie Pye, are a real family and the opening credits announce 'a true story' – but the action is staged.
These student works are enjoyable both as standalone films and as a retrospective insight into Campion's early experimentation with the medium. They show the emergence of narrative and stylistic interests that she would develop through many of her later features. Peel shares a dry wit and a surreal visualisation of the ordinary with Sweetie (1989) and Passionless Moments (1983). In addition it shares an interest in the dynamics and powerplays of human relationships, both familial and romantic, seen in many of Campion's later works, including Sweetie (1989), The Piano (1993) and A Girl's Own Story (1983).
Campion completed degrees in anthropology and fine arts before attending film school and US Academic Kathleen McHugh has drawn attention to the influence of ethnography and surrealist art on Campion's work. In Peel we see a direct manifestation of the two. The opening credits lay out the family relationship in an anthropological diagram (see clip one) and the film concerns itself, in tongue-in-cheek fashion, with plotting the nuances of this family dynamic. It does this through an at-times surreal visual and narrative focus on even the most mundane of details and moments, with particular emphasis on similarities and parallels.
Peel's cinematographer was another AFTRS student, Sally Bongers, who later worked with Campion on A Girl's Own Story (1983) and Sweetie (1989). These films share a similar visual sensibility. Each makes beautiful the ordinary and the drab through strikingly graphic compositions, visual matching and extremes of focus and framing.
You can watch the film in full at NZ On Screen.