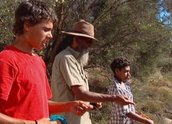 Deadly Yarns 2 – Adrift (2006)
Synopsis
Thomas (Adam Corunna) is a young lad in trouble with the police. His mother (Della Rae Morrison) sends him to live with his grandfather in the country. Pop (Jim Holland) takes Thomas down to the river to teach him how to fish and warns Thomas not to go there at night.
Thomas goes fishing by himself. When he sees the moon rising in the night sky he realises that he has stayed at the river too long, and there will be consequences.
Curator's notes
Adrift covers an issue faced by many young Aboriginal boys: getting into trouble with the police. It shows how the healing power of the natural environment, the love of extended family and practising cultural traditions help young Aboriginal men to turn their lives around.
This film provides an insight into the support network of Aboriginal extended families and community. Without these family networks many more Aboriginal boys would find themselves with no way out when they get in trouble with the police.
The Deadly Yarns short films initiative enables Aboriginal writers, directors, producers and actors to tell stories from their own perspective about things that matter to them and relate to their own cultures and heritage.
Adrift was broadcast on ABC Television as part of Message Stick in 2006.