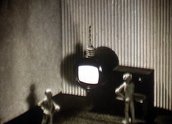 A World to Conquer (1956)
Synopsis
In this amateur science fiction short drama made by John and Frank Straford, a man (Kerry Beckwith) witnesses an alien surveillance camera land in his backyard, but his wife (Jeanette Van Boom) does not believe him.
Curator's notes
We know this short drama will be entertaining from the start, when the ominous voice-over announces that 'Somewhere in the infinite void of space … there is a planet seeking a world to conquer'. Well-chosen classical music, clever use of animation and clay models, and suitably exaggerated acting by Kerry Beckwith combine to bring this science-fiction tale to life.
John and Frank Straford were enthusiastic amateur filmmakers who created short animations, travelogues and comedies under the name of SBF. A World to Conquer was the second of their scripted sci-fi dramas after Thirty Years Destroyed (1953), in which the Sterne Automaton monster almost destroys the scientist that created it. By mid-1953, the brothers were experimenting with post-dubbed sound, and adding instrumental music and simple sound effects for an extra layer of atmosphere. This works particularly well here when Beckwith's character encounters the 'interplanetary reconnaissance camera' that has landed in his backyard (see clip one).
The brothers did their own reverse processing for A World to Conquer in a frame developer designed by Frank. This was the last film they made using a 9.5mm camera, having purchased a 16mm Bolex camera after Kodak took over French Pathé and 9.5mm film became harder to obtain. They switched to digital video in 1997. Their four-part documentary, The SBF Story (2007), chronicles the history of Straford Brothers Films and the family's involvement in amateur and home movies from 1927 to 2007.
A World to Conquer screened at the 2005 Melbourne International Film Festival as part of the 'Backyard Sci-Fi' segment of Ride In Movies 1. It was also exhibited in the ACMI Memory Grid exhibition space.