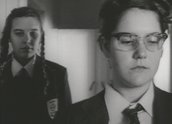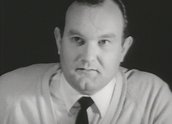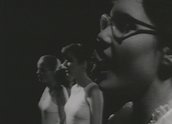 A Girl's Own Story (1983)
Synopsis
A group of teenagers in the 1960s struggle with mixed messages and feelings about families, friendships and sex. A game of make-believe between a brother (John Godden) and sister (Marina Knight) develops into incest. A man attempts to lure a girl into his car. And Pam (Gabrielle Shornegg) is go-between for her depressed mother (Colleen Fitzpatrick) and philandering father (Paul Chubb), who haven't spoken to each other for two years.
Curator's notes
Jane Campion's final student film focuses on the darker side of adolescent female experience. Her young heroines have a growing awareness of sex, dark emotions, dysfunctional family relationships, social cruelty and adult hypocrisy – but their very awareness of such things has taboo status. The social fiction is that girls should be sexually disinterested innocents.
Campion's opening scene comments on these tensions using tongue-in-cheek humour. A number of schoolgirls' hands curiously touch a textbook diagram of male anatomy on which the words 'this sight may shock young girls' are printed underneath. Subsequent scenes highlight society's mixed messages to girls and their own uneasy experiences negotiating child and adult-like impulses. Campion draws a contrast between changes afoot in global pop culture and the girl's stifling, old-fashioned school environment, where they get in trouble with the nuns for acting out Beatles concerts in the playground. At home, they live surrounded by the paraphernalia of childhood, emphasised by a sugar-sweet music-box theme.
The narrative is fragmentary, collecting the experiences of the characters around a theme, rather than following a temporal sequence. A recurring visual motif of electric heaters becomes an increasingly, almost humorously overt metaphor for emotional isolation and a lack of human warmth, peaking in the finale, a surreal pop song performed by the girls in a room filled with heaters (see clip three).
Campion similarly uses oranges as a visual motif in her earlier short An Exercise in Discipline: Peel (1982), and trees in her first cinematic feature Sweetie (1989). Like Sweetie, she frames the film's dark subject matter with a degree of humour and a slightly surreal detachment, for the most part avoiding sentimentality and dramatics. Cinematographer Sally Bongers shot both films, as well as Peel (1982), and they share a visual emphasis on isolation and awkwardness.
Subjects in A Girl's Own Story recur in many of Campion's later films, including the darker side of sex; dysfunctional family and romantic relationships; and the interplay of sexuality and desire with social norms. Set in the '60s, it is a period piece and, like The Piano (1993), The Portrait of a Lady and Bright Star (2009), explores the impact of a particular society's restrictions on its characters and in particular the different expectations placed on men and women.
A Girl's Own Story won the 1984 Rouben Mamoulian Award at the Sydney Fim Festival. It screened in Un Certain Regard at the 1986 Cannes Fim Festival, alongside another of Campion's student films, Passionless Moments (1983), and her ABC telemovie Two Friends (1986). In the same year her other student film, An Exercise in Discipline: Peel (1982), screened in the Cannes short film competition and won the Palme d'Or.