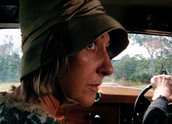 The Singer and the Dancer (1977)
Synopsis
Two women, both misfits of a sort, become friends in a small rural community. Mrs Bilson (Ruth Cracknell) pretends to be an invalid, and carries the deep scars of a failed marriage. Charlie (Elisabeth Crosby) has relocated from the city to try to save her relationship with no-hoper Pete (Russell Keifel). The two women are united by their isolation, and a yearning for some kind of freedom.
Curator's notes
The Singer and the Dancer was Gillian Armstrong's first attempt at a longer form drama, after she had completed her one-year course at the newly established Australian Film and Television School. She had made a couple of shorts, both documentary and fiction, one of which (One Hundred a Day) was based on a short story by Alan Marshall. After a six-month study tour overseas with friends Phillip Noyce and Jan Chapman, during which they met as many filmmakers as they could, Armstrong turned again to an Alan Marshall story for The Singer and the Dancer.
The film is ambitious and confidently made, attempting to juggle several time frames and narrative strands with little dialogue and a strong visual style (it was her first collaboration with cinematographer Russell Boyd). The film was shot on 16 mm near Picton NSW, and blown up to 35 mm for the theatrical release, in which it was paired with Stephen Wallace's Love Letters from Teralba Road (1977), another short feature.