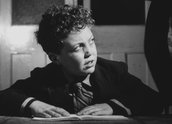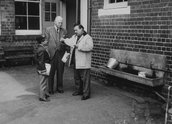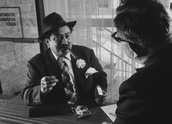 Ninety Nine Per Cent (1963)
Synopsis
Italian immigrant widower Joseph Pino (Francesco Pino) and his school-age son Peter (Carmelo Pino) are opposites personality-wise, living a domestically chaotic life after the death of their wife and mother. When Pino – which is what Joseph is usually called – decides to find a new wife via a matrimonial agency, the would-be bride laughs with hysterical dismissal at her first sight of him. The experience of preparing for and visiting this woman brings Pino and Peter closer together, providing a sense that their shared life will improve.
Curator's notes
After making four films on meagre budgets and 16mm stock, Giorgio Mangiamele (1926–2001) shot the 47-minute short Ninety Nine Per Cent on 35mm film with the aim of attracting a commercial cinema release. Ninety Nine Per Cent, funded by a private backer, Cole Turnley, was Mangiamele's only comedy and the last film in which the director would focus on the life of an Italian migrant.
Mangiamele later recalled that the plot for Ninety Nine Per Cent came from stories told to him by a migrant friend in Carlton. While it contained some of the loneliness, alienation and racism that haunted the lives of recently arrived Italians in Mangiamele's earlier films, Ninety Nine Per Cent subtly integrated these themes in ways that were more universal and more visually complex than the director had achieved before.
Monash University lecturer Raffaele Lampugnani has written that, by making Pino a hawker of watches, clocks and fabric, Mangiamele portrays him 'not as a typical Italian migrant but a stereotype of the Italian migrant as perceived in the wider community, where a north-south bias existed about white (Italian) Northerners and the black Southerners'. In the 1950s the Australian government sought to restrict migration from Southern Italy because of the perception that Southerners were, according to a January 1950 memorandum from the Secretary of the Department of Immigration, 'not as good a type (as Northerners) either physically or mentally', had poor hygienic habits and were less likely to assimilate into Australian society.
Pino in Ninety Nine Per Cent has even more cards stacked against him than that. His status as a shambolic, illiterate hawker has divided him and Peter, his fastidious son, and the rift between them widens when Peter mocks Pino for his lack of schooling. Their relationship begins to heal when they prepare to meet the woman they hope will be their new wife and mother.
The story starts and finishes with a racist Australian drunk confronting Pino in the street and calling him a 'fat wog'. But the film's portrayal of racism is subtler than in the earlier Mangiamele films, where one drunk was the perpetrator of attempted sexual assault (in Il Contratto, 1953), and two more (in his unreleased and released versions of The Spag, c1960 and 1962 respectively) were guilty of manslaughter. Peter's headmaster gently reprimands Pino for sending Peter to school with torn trousers (see clip two), and when Pino tries but fails to use two cigarette lighters to light a cigar, the passerby who successfully uses his own lighter to light the cigar genially calls out, 'Made in Australia'. Anastasia Kosca, the would-be bride, rejects Pino on the grounds of physical difference. But Pino is helped and encouraged by his working-class neighbours, one of whom has suggested the matrimonial agency.
Ninety Nine Per Cent is Mangiamele's most searching exploration of personal isolation, so much so that without its satire, slapstick and surreal comedy it could easily have moved into darker territory. Surreal moments include a group of café layabouts who repeatedly contemplate the word 'work', and a team of drowsy teachers in a staffroom who are unable to move beyond the mechanical repetition of such bits of staccato as 'I will' and 'I won't'. Slapstick comes in the form of Pino's confrontations with the drunk and his attempts to sell his goods to café customers, followed by his hasty retreat with his suitcase billowing smoke after a customer sets fire to a piece of fabric Pino has previously claimed is fire-resistant. Comedy also underscores Pino and Peter's attempts to clean house as they hurl unwanted possessions through a window before setting fire to the lot.
As director and cinematographer, Mangiamele uses the sharpness, depth of field and exposure range of 35mm to give Ninety Nine Per Cent a more multi-layered look than his earlier films. But the fact that Mangiamele shot Ninety Nine Per Cent without sound, then added a rough, sometimes distractingly out-of-sync track stops the film from reaching its full potential. That said, Cid Ellwood's lively jazz score does much to lift the film's pace and tone, and the charming song 'Little Collins Street' backs a montage of Pino attempting to sell watches in the café.
Ninety Nine Per Cent was awarded an Honourable Mention in the Australian Film Institute's 1963 Australian Film Awards. That same year the film premiered as a supporting short at Melbourne's Savoy cinema. The film was televised by the ABC in Sydney and later screened as a support to Mangiamele's feature Clay (1965).
Mangiamele was disappointed by the film's limited exposure, a fact that may have derived from its mixture of sombre themes and stylistic boundary-pushing. Nevertheless recent years have brought growing recognition of the significance of Ninety Nine Per Cent as an achievement several decades ahead of its time.
On 15 October 1997 Ninety Nine Per Cent and the release version of The Spag (1962) were screened at Cinematheque 97, at the State Film Theatre, East Melbourne. Retrospectives of Mangiamele's films have been held at ACMI in Melbourne, organised by the Council of Education after he died in 2001, and in 2004–2005 at the Fuoricircuito (cine club) at the contemporary arts centre Zo, at his birthplace in Catania, Sicily. Ninety Nine Per Cent also screened at the 60th Melbourne International Film Festival on 6 August 2011.