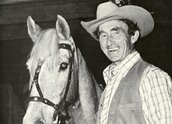 Smoky Dawson and the Singing Bullet (1955)
Synopsis
Smoky Dawson and the Singing Bullet is a classic episode from The Smoky Dawson Radio Show, which ran from 1952 to 1962. In this episode, Smoky's old enemies Crogan and Gilmore kidnap Billy to draw Smoky into an ambush. Smoky outwits them with a song from his specially modified guitar – the one with a rifle built in.
Curator's notes
The Smoky Dawson Radio Show was much more than light entertainment. It aimed to provide children with important moral lessons and wholesome values approved by both Smoky and the show's sponsor, Kellogg's. Children were encouraged to join the Kellogg's Wild West Club and live by Smoky's 'Code of the West'. A young Paul Keating was a Deputy Sheriff in the club. There were three primary rules:
1. Come to the table when first called, with clean fingers and a clean mind.
2. Be a good sportsman.
3. Help your neighbour in need and honour your flag and your country.
The show was wildly popular. It went out three times a week in prime time on Sydney's 2GB and across the Macquarie network, eventually to 69 stations. The shows made Smoky Dawson a household name and a national celebrity. His horse Flash was almost as well known. The shows were written by Don Haring, an expatriate American who was also one of the chief writers of the 'Larry Kent' detective series of pulp novels published in Australia in the 1950s (over 400 of them).
The template for the Smoky Dawson shows was American too, borrowing elements from both Gene Autry and Roy Rogers. Both were singing cowboys, with radio shows featuring a horse, a sidekick and a song or two. The 'Code of the West' probably owes some debt to Autry's 'Cowboy Code', a similar set of guidelines for American children.
By 1951, Smoky Dawson was familiar with every aspect of the country music business, as it was practised in the US. After establishing a recording career in Australia, he went to the US where he had his own television show. Dawson had a huge range of skills as an entertainer: singer, songwriter, storyteller, rope-twirler, trick rider, knife-thrower. He could even throw a double-headed axe.
His career in the US was looking up but his wife Dot wanted to come home, especially after Smoky was badly injured in a car crash. They returned in 1952, when Smoky accepted a long-term contract for a radio show sponsored by Kellogg's. 'It took me about 12 months to make up my mind,' Dawson told ABC country presenter John Nutting, in an interview in late 2005.
Dawson's theme song for the series, 'Riding With a Smile and a Song', became one of his most-loved songs. Despite the American influences, it was a very Australian show, in terms of story and cultural references. Most of the plots revolved around the mythical Jindawarrabel Station, an idealised property whose location was deliberately kept vague, to appeal to listeners in all states.
The shows were recorded, then seven copies, one for each state and territory, were pressed into vinyl and sent out to radio stations in the capital cities. The recording would then be sent from station to station, so that the shows played in sequence, rather than simultaneously, around the country.
Syndicated radio shows peaked in the early 1950s, just before television hit Australia. After the demise of the Dad and Dave radio serial in 1953, Dawson's show became the most widely distributed, and one of the last to succumb in the early '60s. 'We tried as much as we could to keep it going,' Dawson told John Nutting. Dawson's career prospered for another 45 years after the show, making him one of the evergreen legends of Australian country music. He recorded and wrote songs right up until his death in 2008, aged 94.
The series was broadcast on 2GB and across the Macquarie network between 1952 and 1962. This episode was also released on vinyl as a commercial release. You can watch an interview with Smoky Dawson at Australian Biography.