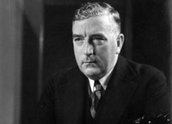 Menzies Speech: Declaration of War (1939)
Synopsis
Broadcast live via national radio, on 3 September at 9.30 pm Eastern Standard Time from the Postmaster-General's Room at the Commonwealth Offices in Melbourne, Prime Minister Robert Menzies announces Australia's imminent involvement in the Second World War. By saying that Great Britain has declared war upon Germany, the result is that Australia is also at war. Speaking deliberately and mournfully, the Prime Minister not only has to inform Australia of its commitment to fight but he also clearly argues why Australia must help to secure peace in Europe.
Curator's notes
At the very start of the recording, we have a sense of the room in which Menzies is about to arrive. There are some low voices speaking as the recording begins and, from the sound of Menzies's footsteps on the wooden floor, we can sense the room is fairly large. He enters through a nearby door, which is lightweight, squeaks as it opens and quickly slams shut.
The recording is solemn, the sound of Menzies's voice giving a sense that the entire country is hushed in silence, late in the evening, pressed against the radio and listening intently to every grave word.
The prime minister's comments on the enormity of the task of declaring Australia officially at war are pertinent to the fact that Menzies rose to power in April 1939 and by September was saying, 'No harder task can fall to the lot of a democratic leader than to make such an announcement'. Menzies then gives a detailed account of the nine days of international incidents leading up to the declaration of war.
He makes it very clear that Germany has instigated the war and that the European allies now have no recourse but to defend the independent nations of Poland and Czechoslovakia:
Great Britain and France, with the cooperation of the British Dominions, have struggled to avoid this tragedy. They have, as I firmly believe, been patient. They have kept the door of negotiation open. They have given no cause for aggression. But in the result, their efforts have failed, and we are therefore as a great family of nations involved in a struggle which we must at all costs win, and which we believe in our hearts, we will win.
Menzies describes Hitler, whom he calls the German Führer, as a threat to freedom and democracy. 'In cold-blooded breach of the solemn obligations [previously made by Germany and Great Britain] Hitler has annexed the whole of the Czechoslovak state; has, without flickering an eyelid, made a pact with Russia … and has now, under circumstances which I shall describe to you, invaded with armed force and in defiance of civilised opinion, the independent nation of Poland.'